Champion's Journey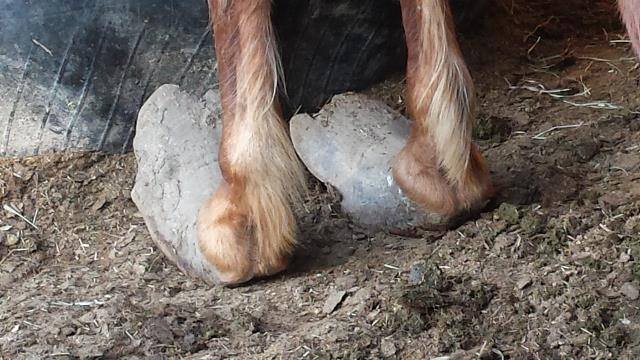 UPDATE - We are very sad to report that Champion has crossed over Rainbow's Bridge. Due to the severe neglect that he suffered in the hands of his Owner he could not be saved. He was in extreme pain and it was getting worse each day. Under the advise of three Vets and our Farrier we helped Champion cross over Rainbow's Bridge and we were right by his side holding him. He knew if for only a short time he was loved. Until we meet again Champion. You will be greatly missed. We are sorry that we could not undo what your Owner did to you for so many years.

Please Share - UPDATE on "Champion" – Please read this whole post and show your support for "Champion". "Champion" did as well as could be expected last night when his hooves were trimmed for the first time in "many years". It was a very long process as he had to be medicated enough to relax him but yet he needed to stay on his feet to allow us to work on his hooves. A huge thank you to our incredible Farrier Clayton Sheeder who agreed to take this on for us. Clayton Sheeder is patient and does a very good job for us and our rescued & neglected Horses & Donkeys. Thank you to our Vet Dr. Lubben who assisted us to monitor "Champion" during the procedure and our Volunteers and good friends Annie, Don & Nancy for always being by our side. "Champion" has a "very long road" ahead of him to heal. It can take up to a year to try and correct the damage done by allowing this severe overgrowth to happen. The next step we will take are x-rays to determine what damage has been done and where we need to head. At this time we are keeping him as comfortable as possible. He is going to need to learn to walk again with all new hooves. We are in need of "Donations" to help cover the cost of Farrier Services, Vet Care & Medication for "Champion". Please consider a donation today for "Champion" through #Omahagives by using the following link https://www.facebook.com/events/1718348888392137/?ref=5
or if you prefer you can donate through Pay Pal by using the following link
https://www.paypal.com/cgi-bin/webscr?cmd=_s-xclick&hosted_button_id=T97DM4T46BFBW
If you can't make a donation at this time please keep "Champion" in your thoughts and prayers.