Severe Case of Abuse and Neglect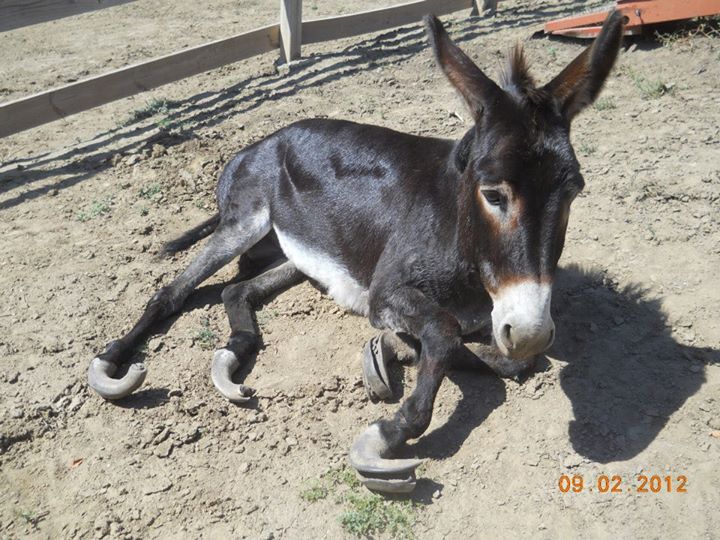 Featured on WOWTV Channel 6 News
We were contacted regarding several animals who were not being cared for in a rural area in Nebraska. The report came in that nobody was living on the property as the Owners had moved. So, we did some research and found out who the Owners were and contacted them. One of the animals living there was named Zeus. He was a 15 year old Donkey that had not received any Vet care or hoof care for many years. The owners agreed after much conversation that Zeus should be removed.

We made the three hour trip to get Zeus. When we arrived we found him standing in a pile of trees that had fallen down. He was in terrible shape. There was no food or water anywhere that we could see. We, along with some good friends who assisted us lifted Zeus into our trailer and headed back to our Rescue/Shelter. It was a very long trip for Zeus because of the condition he was in.

We want to thank Channel 6 News in Omaha, NE and Reporter Mike McKnight for covering this story for us. Without their incredible news coverage we could not reach so many people to share with them what we see & deal with on a day by day basis.

We are accepting donations for the care of Zeus, his Vet Bills and his Farrier services.

We will also be submitting our report to the Sheriff in the area regarding Zeus and the condition he was in when we removed him.

Update - Zeus will remain at Hooves & Paws Rescue of the Heartland for the rest of his life due to ongoing health issues caused by his long life of neglect. He receives regular treatment on his hooves and farrier services are provided every six weeks to keep him as pain free as possible. He is pampered and spoiled like he should have been his whole life. He is sweet & loving despite his horrible past.