Little May Belle Our Tiny Resident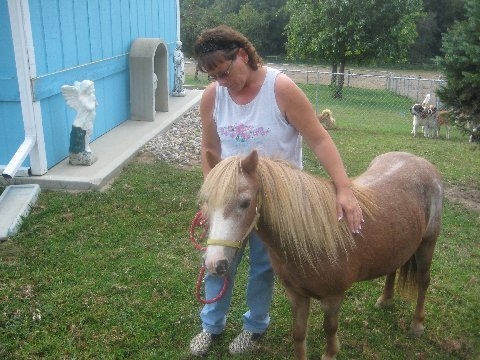 Update - Little MayBelle crossed over Rainbow's Bridge peacefully in our arms. She was almost 38 years old. She will be greatly missed by everyone who knew her especially her good buddy Goober. Until we met again, watch over us and Goober.

Little MayBelle arrived at the rescue 09/20/08. It was just over an hour trip back to the rescue from where she was. She got right into the trailer when we loaded her. When we arrived at the rescue she got out and took a look around. The first horses she saw (on the other side of a fence of course) was Papa River, Mama Joy and Baby Walter. You can imagine what she thought. They looked at her and she looked at them like "what in the world"? I am sure she thought those are the biggest horses I have ever seen. But she was a trooper. She walked over to the fence and looked up at them and then turned around and walked away as if to say thank God there is a tall fence between us.

Due to her age, MayBelle will be a forever resident at our rescue facility. She will continue to have ongoing medical needs. We want to thank everyone we pledged a monthly donation to help with MayBelle's care. We can not do this without everyone's help.